8/21/17 Medium Bushel
Apples (1 lb avg) or Asian Pears (1 lb avg), Carrots (1 lb avg), Lettuce (1 head), Beets (1 lb avg) or Okra (1 lb avg) or Yellow Squash (1 lb avg), Sweet Potatoes (1 lb avg) or Winter Squash- Acorn, Butternut, or Kabocha (1 each)
8/21/17 Large Bushel
Apples (1 lb avg) or Asian Pears (1 lb avg), Carrots (1 lb avg), Lettuce (1 head), Watermelon (1 each), Sweet Potatoes (1 lb avg), Sweet Potato Greens (1 bunch) or Bok Choy (1 head) or Beets (1 lb avg), Spaghetti Squash (1 each), Mixed Summer Squash (1 lb avg) or Assorted Eggplant (1 lb avg), Crimini Mushrooms (1/2lb avg) or Cucumbers (1 lb avg) or Tomatoes (1 lb avg)

Pack In The Veggies
One of our favorite ways to plan meals is to think about how we can jam-pack as many vegetables into one dish as possible. Oftentimes, we can be more creative in the kitchen with a bounty of veg that just happens to be in the crisper drawer, waiting patiently to be used up. We understand getting to the bottom of your bushel can be a challenge, but we've got Cornmeal Crusted Chicken Cutlets, Beet and Watermelon Salad, Spicy Healthy Chicken Soup, and Taco Squash Boats to help you pull it all off.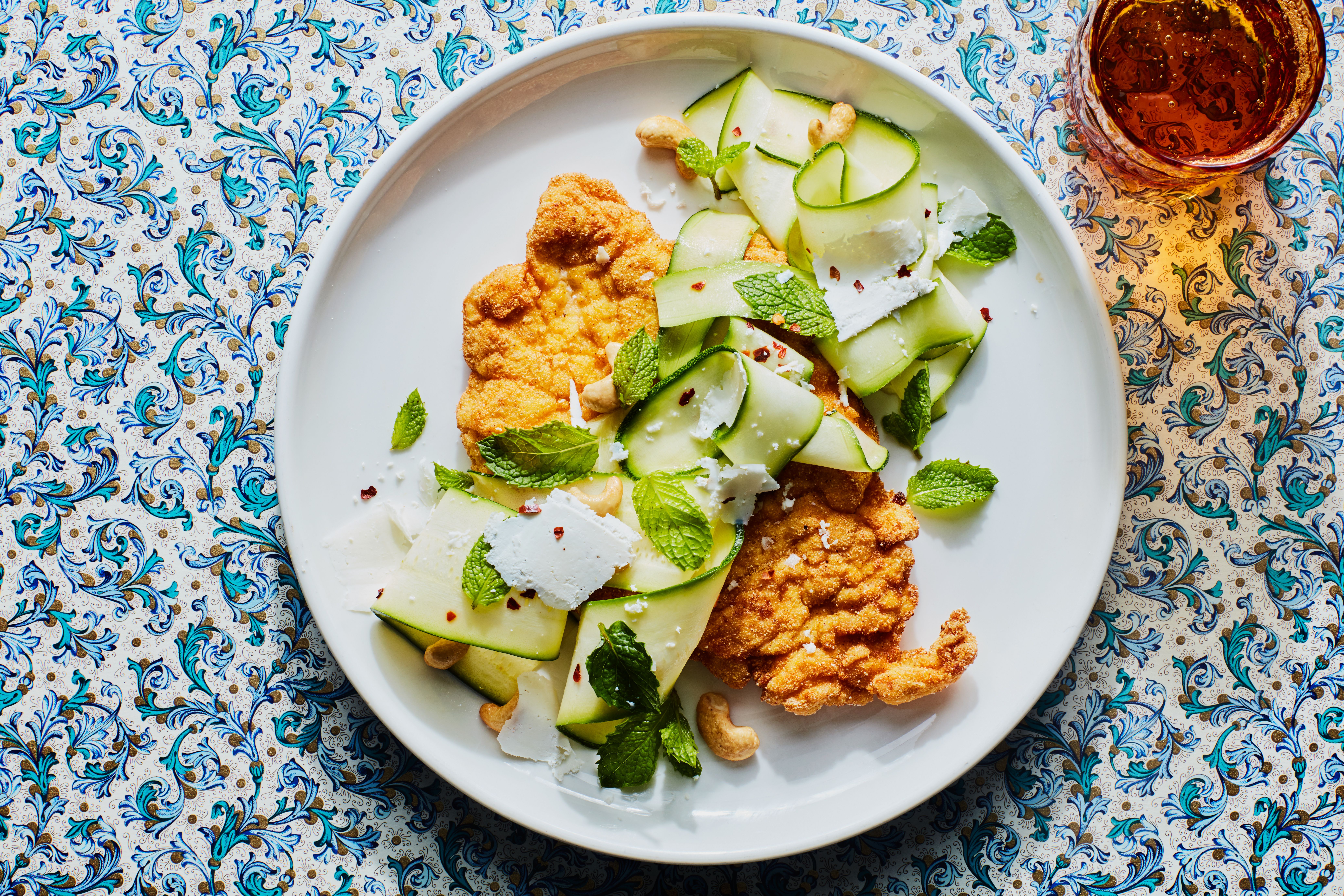 The Cool Cut: Chicken Cutlets with Zucchini Ribbon Salad
One of our favorite weeknight dinners is a thin, crispy fried cutlet with a bright, zesty salad on top. It's the perfect combination of a crispy, salty protein and fresh crunchy vegetables. Cornmeal Crusted Chicken Cutlets (Source: Epicurious) are a great idea for a gluten-free diet, and one the whole family can enjoy. Use up your bushel by substituting the shaved summer squash salad for ribbons of carrots or cucumber, and you can always go heavier on the salad by bulking it up with the traditional lettuce or wedged tomatoes.
Squash Boats: Fill Veggies with.. More Veggies!
The magical thing about squash season is that there are so many low-carb ways to get more vegetables in your diet. These Spaghetti Squash Boats by Skinny Taste take Taco Tuesday to a veggie-friendly level. Fill par-baked squashes with taco meat (ground turkey, beef, chicken or tofu!) and favorite burrito toppings like salsa and cheese, bake until cheese melts, and eat directly out of the squash! You can also try this idea with a baked sweet potato for another filling dinner idea.

The New Chicken Soup: Spicy Healthy Chicken Soup
If you're experiencing any summer sniffles, or you're really just turning down your A/C to below 70°F to trick yourself into thinking it's actually fall, soup might help soothe the soul. This Spicy Healthy Chicken Soup (Source: Bon Appetit) asks for all the good greens (like sweet potato greens or bok choy), nutrient-rich winter squash, and totally has room for chunks of eggplant or sautéed crimini mushrooms. Spicy chili oil is totally optional, but definitely encouraged.
Antioxidant Rich Salads: Beet and Watermelon Salad
We aren't quite ready to turn the oven on, so we are opting for a beet salad (Source: Lively Table) to brighten up this root vegetable. Plus, beets are super high in Vitamin C and are a good source of potassium, both great nutrients to keep you going through the rest of summer. Crispy, local watermelon is a beautiful, bright contrast to rich steamed beets and the addition of crunchy toasted nuts, herbs, and creamy goat cheese is what we've been dreaming about. You could also add in diced apple or Asian pear (tossed in lemon juice to preserve color) for extra crunch, texture and sweetness.
---
How are you keeping up with your vegetables in August? Message us on Instagram with photos, bushel questions, or just to say hi!