8/14/17 Medium Bushel
Apples (1 lb avg) or Asian Pears (1 lb avg), Carrots (1 lb avg), Lettuce (1 head), Okra (1 lb avg) or Asian Long Beans (1/2lb avg), Sweet Potatoes (1 lb avg) or Winter Squash (1 each), Sweet Peppers (1/2lb avg) or Cucumbers (1 lb avg) or Eggplant (1 lb avg)
8/14/17 Large Bushel
Apples (1 lb avg) or Asian Pears (1 lb avg), Carrots (1 lb avg), Lettuce (1 head), Watermelon (1 each), Okra (1 lb avg), Sweet Potatoes (1 lb avg), Butternut Squash (1 each) or Acorn Squash (1 each) or Kabocha Squash (1 each), Mixed Summer Squash (1 lb avg), Crimini Mushrooms (1/2lb avg) or Cucumbers (1 lb avg) or Tomatoes (1 lb avg)

Texan Super Seasons
If it's one thing we can all appreciate is that Texas is a very unique place. With these exceptionally hot summers, we are getting produce that the rest of the country might not see until late Fall. Sweet potatoes in August- say what? Winter squash in 100°F heat? It's all very normal for the Texan agricultural landscape, as we move into the deep heat of summer in this state. We've got you covered with still-summery recipes using veggies that cooks typically think of using with winter flavors. 
The New Greek: Capture the season with Mediterranean-inspired watermelon salad
One of our favorite ways to eat watermelon as a dish is to toss it in a big, bright salad with lots of chopped cucumbers, diced tomatoes, onion, and herbs. Add some Full Quiver Raw Milk Feta crumbles for good measure, toss in lemon juice and olive oil as a light dressing, and serve for a crunchy, fresh and satisfying side to chicken or grilled steak. You can also get creative with your bushel by adding diced apples or asian pear or serving the entire chop over lettuce.
Squash Surplus: Thinly slice and roast hearty squashes for summer style
One of the best ways to use up any type of squash is to peel (if applicable), thinly slice, and roast in a quick drizzle of olive oil and favorite seasonings. When the squash slices come to room temperature, top with a zesty salsa verde and herbed breadcrumb mix for texture. The lucky thing about this Roasted Squash with Salsa Verde recipe is that you can easily switch up the squash for sweet potato, diced butternut squash, wedges of acorn squash or kabocha squash (skins removed after roasting), just keep your eye on the oven as roasting times can vary. You could also quickly saute coins of mixed summer squash and then drizzle with salsa as well.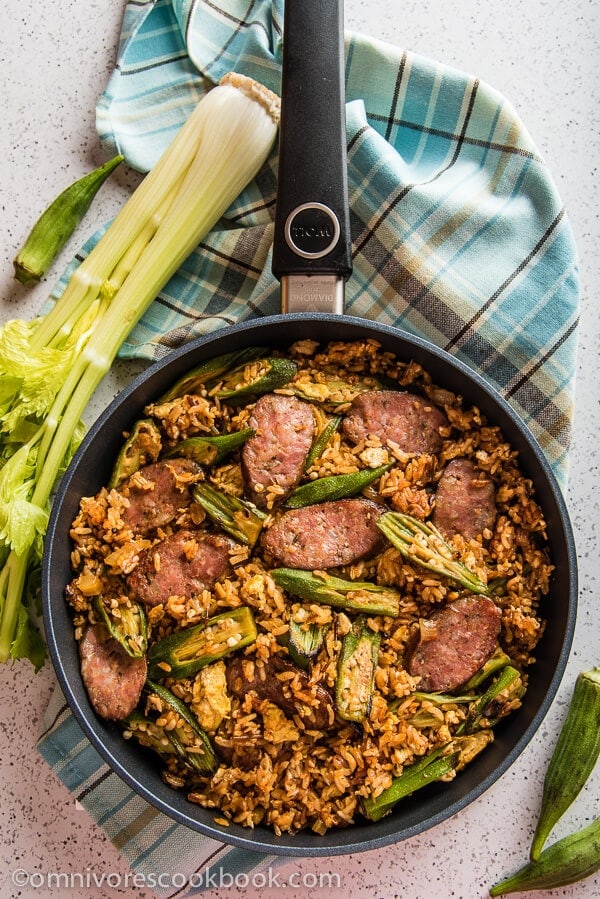 Cajun Favorites: Fried rice with a Louisiana perspective
Maggie from Omnivore's Cookobook offers a recipe for Jambalaya Fried Rice with smoked sausage and sliced okra. Cooked brown or white rice is crisped up with Peaceful Pork Smoked Sausage and southern vegetables. We think adding chopped crimini mushrooms and diced carrots would make for an excellent veggie-ful meal.
Photo: Courtesy of Omnivore's Cookbook
How are you cooking with winter vegetables in August? Message us on Instagram with photos, bushel questions, or just to say hi!