8/6/17 Next Week's Medium Bushel:
Apples (1 lb avg), Carrots (1 lb avg), Lettuce or Sweet Potato Greens (1 head or 1 bunch), Butternut Squash or Melons (1 each), Eggplant (1 lb avg), Crimini Mushrooms (½ lb avg)
8/6/17 Next Week's Large Bushel:
Apples (1 lb avg), Lettuce or Sweet Potato Greens (1 head or 1 bunch), Carrots (1 lb avg), Mixed Summer Squash (1 lb avg), Butternut Squash or Melons (1 each), Eggplant or Cucumbers (1 lb avg), Pears (½ lb avg), Sweet Potatoes or Asian Long Beans (½ lb avg), Okra (1 lb avg)

Celebrate the End of Summer
The weather may not know it, but the end of summer is upon us. The backpacks are coming back out of the closets and can't you just hear the sound of sharpening pencils? Just because the impending ring of the school bell is near doesn't mean you have to start eating Fall food. We've got you covered with hyper seasonal Texas produce, fresh from farms to your door. Check out recipe ideas below for Chile-Lime Fruit Salad, Grilling Small Veggies, and Summer Rolls to use up your bushel this week.
Photo Courtesy of MolliSauces.com
Crazy Fruits: Brighten up crunchy and refreshing fruit salad with chile & lime
One of the sure signs of summer in Texas means fruit cups, Mexican street food style. Giant plastic cups are piled high with sweet fruits and crunchy vegetables like mangoes, melons, diced cucumbers and coconut flakes. The fruit is tossed with salty-sweet chamoy, lime juice, and chile-lime salt and eaten straight up with a fork, preferably in the hot sun. Use up the remaining fruits from you bushel this week by including chopped apples and Asian pear!
Recipe Courtesy of Uncommon Slice of Suburbia
Grilling Small Vegetables: Use a grilling basket or skewers to keep veggies from falling from the grates
The last few weeks of summer calls for grilling outdoors as much as possible. It just so happens that grilling is the perfect solution to your leftover bushel veggies! Grilling smaller vegetables such as okra or long beans can be tricky depending on the size of your grill grates; smaller pieces can drop down into the coals or gas and get charred to bits. Avoid sacrificing a few to the fire by following these two methods:
Skewers: Skewer veggies onto wire or wooden skewers, kebab-style. Just be sure to soak wooden ones in water before threading veggies to avoid setting the wood on fire during grilling.
Grilling Basket: If you're lucky enough to have a grilling basket, toss as many vegetables as you'd like directly into the basket.
Toss a variety of vegetables (even chopped eggplant cubes and summer squash slices!) in olive oil, salt and pepper (or our smoky barbecue rub). Grill using a basket or threading onto skewers until vegetables are softened and charred to your liking. Squeeze a lemon wedge for more flavor, or toss in one of our favorite dressings or marinade recipes.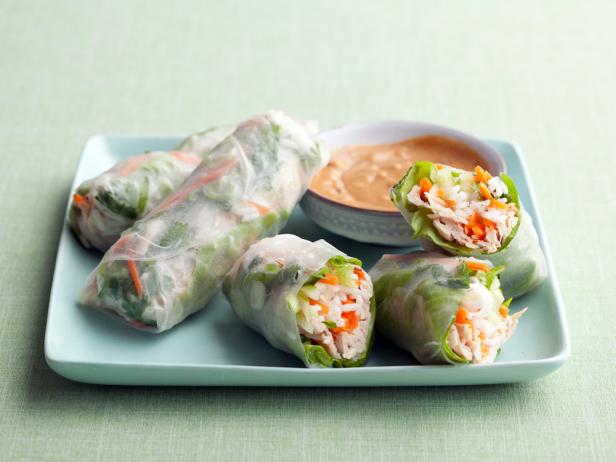 Recipe Courtesy of Food Network
Spring Summer Rolls: Rice paper wraps up your favorite seasonal veggies
The magical thing about summer rolls is that you can put any combination of fresh vegetables inside of them and when dipped into a delicious peanut sauce, just comes together beautifully. Briefly dip rice wrappers into warm water, shaking off excess. Lay flat onto a cutting board and add your fillings: Go for crunchy lettuce, massaged sweet potato greens, shredded carrots, or strips of cucumber. You can also throw in roasted butternut squash or sweet potato to unlock the full potential of your bushel. Wrap gently, burrito-style, by pulling in the sides before wrapping up from the bottom (You can also check out this tutorial from The Kitchn for a step-by-step) Be sure to include bright herbs like cilantro or green onions and sprinkle sesame seeds for extra flavor.
---